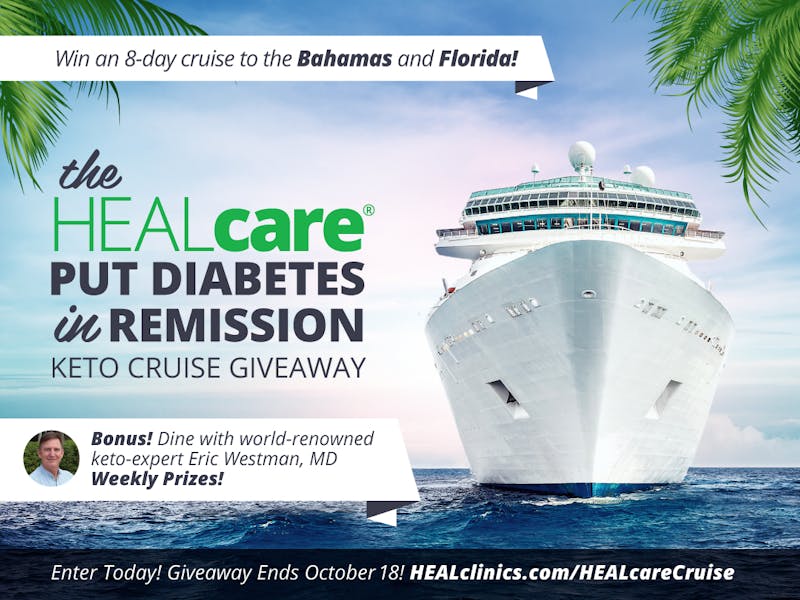 HEAL clinics is giving you the chance to win prizes! The first prize is an amazing eight-day trip for two on a Royal Caribbean cruise to the Bahamas and Florida.
HEALcare is helping tens of thousands of patients manage their type 2 diabetes, pre-diabetes, and obesity with ketogenic and low-carbohydrate lifestyles. The brilliant Dr. Eric Westman, M.D., M.H.S. is the Chief Medical Officer of HEALcare — you will get a chance to dine with him if you win!
All you have to do is enter the contest on the HEALcare website.
Here are a few of the awesome prizes you could win:
Eight-day Royal Caribbean keto cruise for two to the Bahamas and Florida
Low Carb USA, San Diego 2019 conference package with hotel
Low Carb USA, West Palm Beach, Florida 2019, conference pass
One-year subscription to DietDoctor.com (a gift from us – we're in no way financially connected to HEALcare)
Keto Living Day-By-Day – cookbook by Kristie Sullivan
The contest expires on October 18th, so enter now to win a prize!
HEAL care: Win an 8-day keto cruise to the Bahamas and Florida
Earlier
Meet us at the Low Carb Cruise 2018
Low Carb Cruise 2018